Buy top quality Precision Brass Components like Brass Electrical & Electronics Components, Brass Auto Components, Brass Fasteners, etc.
Know Us

RMS Precision Products is an ISO 9001:2008 Certified & professional managed organization engaged in manufacturing and supplying wide range of quality Precision Brass Components and vast range of custom made Precision Turned Components, which includes Brass Electrical & Electronics Components, Brass Auto Components, Brass Fasteners, Brass Inserts, Copper Components, etc. We also provide customized turned and forged components, as per the specifications of our clients.

Our Main plant at Jamnagar is having state-of-the-art manufacturing facilities, with best machineries, in house manufacturing of brass components and fully assured quality control panel. This supported by a very well organized and experienced team of highly professional and totally committed brains for fulfilling customer's implied and stated demands at a very short notice. Total customer satisfaction both in quality and personalized attention, understanding and developing innovative cost effective techniques for customer benefits is the base of our foundation since years.

RMS Precision Products has gained recognition as a reputed manufacturer of high quality Brass Products. The excellence in manufacturing, product designs and the performance over a decade has enabled the company to offer Unique Quality products and conform to latest National & International standards. The company is committed to achieve leadership position in the Electrical, Electronics, Automotive & Engineering Industries by creating technical and marketing advantage to consistently meet or exceed customers' expectations.

Product Range

Brass Electrical Components
Brass Inserts
Brass Fittings
Brass Meter Components
Brass Pins & Brass Studs
Brass Bush & Brass Bushing Components
Brass Forged Components
Brass Gas & Geyser Components
Brass Housing Fittings
Brass Telecommunication Components
Brass Surgical Components
Brass Sheet Metal Components
Brass Rivets Riveting Components
Brass Pipe & Hose Fittings
Brass Casting Components
Brass Sanitary Fittings
Brass Hardware
Brass Decorative Components
Copper Components
Aluminium Components
Stainless Steel Turned Components
Brass Industrial Fasteners
Fasteners
Brass Auto Components
Precision Brass Components
Brass Hex Nuts & fittings
Nuts & Bolts.
Our In House Machines Facilities

Company has Conventional and semi conventional machinery to produce good Quality of Products. To ensure that our clients are rendered with quality assured components, we have developed advanced manufacturing facility. Leveraging on latest technology and machines we are able to meet the requirements of our valued clients based in Europe, Middle East, and Far East countries. In addition, we have established an in-house quality testing facility which allows us to provide our clients with a flawless range of components. We also have with us services of an experienced team of professionals, who possess immense expertise in designing and fabricating Brass Turned Components.

Our in house Machine Facilities

Traub Machines
SPM
CNC Machine
DTS Double Cam Shaft Automatic Lathe
Multi Station rotary Disc Transfer Indexing Machines for secondary Operation
Profile Drawing Machine
3/4 Lathe-Turning Machine Automatic Traub
Milling Machine
Special Purpose Milling Machines
Special Purpose Section Cutting Machine
Special Purpose Drilling Machine
1/2 Drilling Machine
Special Purpose Threading Machine
1/2 Threading Machine
1/2 Tool Grinders
1 1/2 Special Automatic Traub
1 Special Automatic Traub.
Quality Control

We follow strict inspection procedures and testing facilities in our unit. Right from the production to product dispatch, each product is made to pass through strict inspection. Our quality analysts thoroughly inspect the raw materials at the time of their procurement from our authentic vendor base. Company has unique Inspection facility to achieve goal of zero defects and rejection of any products manufactured. Well experienced and regularly trained, technocrat engineers, carry out the Inspection on each Individual product.

Quantity Control Equipments
Digital Vernier Callipers [Mitutoyo Brand]
Dial Vernier Callipers [Mitutoyo Brand]
Micro Meter [Mitutoyo Brand]
Profile Projector
Digital Micro Meters
Ring & Plug Gauges [hip Brand] for Various Threads
WCP Gauges- Master Calibration
Pin Gauges-Specific
Special Structure Gauges to Control Critical Dimensions
Special Radius Gauges to check Radial Over Components
Special Tools
Special Customized Gauges.
Our Team

We have skilled professionals of their respective fields. Our team comprises Technicians, who have the ability to understand the specific stylized requirements of our customers and design innovative and unique range of brass components. We have also appointed technicians and machine operators who are well versed in operating various machines thereby ensuring least wastage of material.

Why Us?

Superior Quality
Timely Delivery
Competitive Pricing
Customized Products
Rapid Communication
All metal products under one roof
Continuously upgraded machines & equipments.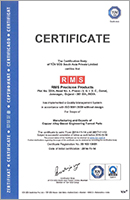 Plot No. 3225, Phase 3, G.I.D.C. Industrial Area, Dared, Jamnagar - 361004, Gujarat, India
Phone :+918045804557
Fax :91-288-2731025
Mr Rajesh Patel (sales Head)
Mobile :918045804557